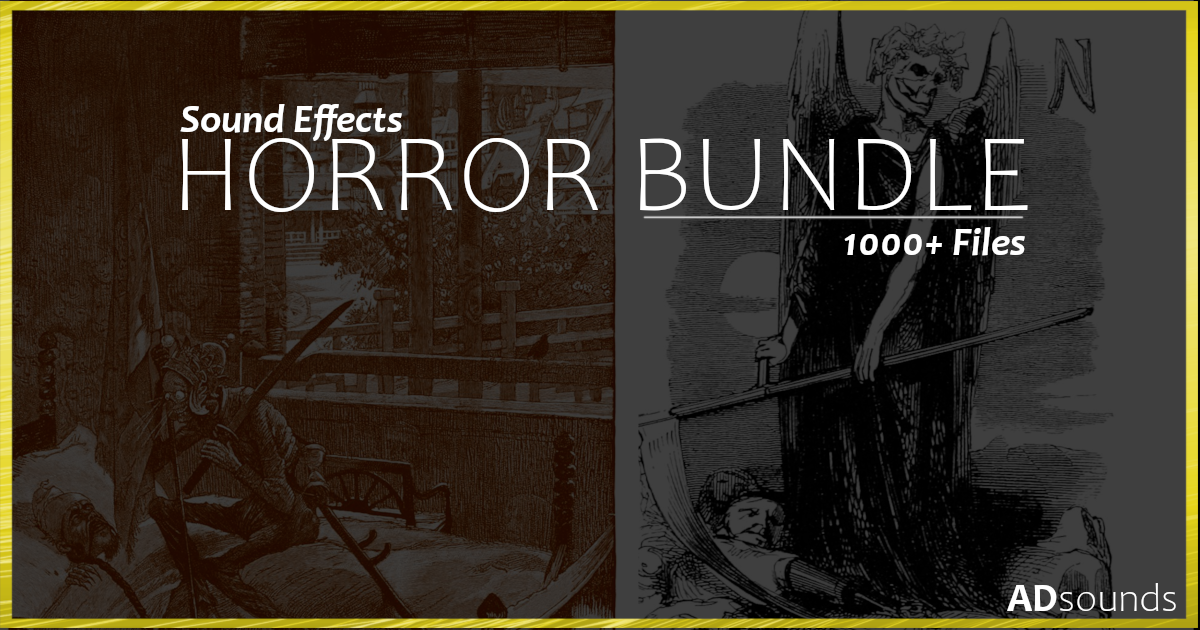 Horror Bundle - Sound Effects
A downloadable asset pack
Get this asset pack and 42 more for $30.00 USD
View bundle
Hello Developer!

Introduction
This asset contains more than 1000 new and exclusive sound effects, plus 8 audio libraries, in total you will acquire more than 2000 files perfect for horror games.
I think it is extremely important that in addition to numbers, sounds are useful. Bearing this in mind, you can watch the videos for the application of various sounds in this pack, and listen to them all before you buy so you can make sure you're getting something of quality.
Check the sounds
- Preview
- Usage
- Trailer
- Documentation
Packs Included:
- Common Horror Sounds
- Real Doors
- GhostsAndZombies
- Gore
- Haunted House
- Kitchen
- Monster Sounds
- Horror Music
Exclusivities:
To record this package I went to a house in my city that is over 100 years old, where I recorded wooden knocks/footsteps on old floorboards/breaking ceramic and wooden things/closets/doors sounds and even a kitten haha.
I also hired one of the Brazilian voice actors who worked on The Last Of Us 2 to do female voices, given that most ghosts in games are women, I thought it was essential to have female voices in this package.
Check her Work: Alice - Twitter
Variety:
You will have the sounds used in horror games like Zombies/Ghosts/Gore/Haunted Houses/Bass but in addition to these you will also have sounds that can be useful in many other situations:
Doors/Monsters/Kitchen/Paper/Bells/Plastic bags, among many others.
This will definitely help because there are moments in horror games that are more relaxed with everyday objects and not all are jumpscares with great impact sounds, to fill this gap this bundle has the alternatives mentioned above and several others.
Ease:
The sounds are super simple to use, and in the "mood and ambience definers" folder you will easily create soundscapes for your game, the sounds are ready to use but if you feel like you need to edit something to better fit your game, go ahead :)
Music
You'll also get 25 exlusive music loops for your game! :D
Additional Information:
The Pack will have an update in November/December. (Why this month?) during this period there is an event in my city where exhibitors sell old things that belonged to their ancestors, that is, several different sources of sounds.
Inside the package you will find a folder called 'videos', this folder contains the sounds OF THESE VIDEOS I did it this way because I found it easier to organize for you who will invest, just watch the video, if you liked the sound, go to the folder and use it :)
As a bonus you will get one with some noises and body and brakes / the brakes are extremely useful to create scenarios if you lower the pitch or go up, as it is something more specific and that maybe needs editing I left them as a gift, none amount is charged by them :)
Helping each other:
When you invest in this package, in addition to taking all the aforementioned things, you still help me and motivate me to continue creating new materials for developers
Important point:
Any questions please do not hesitate to contact me via email, thank you!
The cover illustrations are in the public domain distributed by oldbookillustrations the artist of the illustrations are Tegner, Hans and Nanteuil, Célestin
License:
non-exclusive license – you're free to use these packs in your commercial games. No license to claim/resell as your own work.
Purchase
Get this asset pack and 42 more for $30.00 USD
View bundle
In order to download this asset pack you must purchase it at or above the minimum price of $4.99 USD. You will get access to the following files: