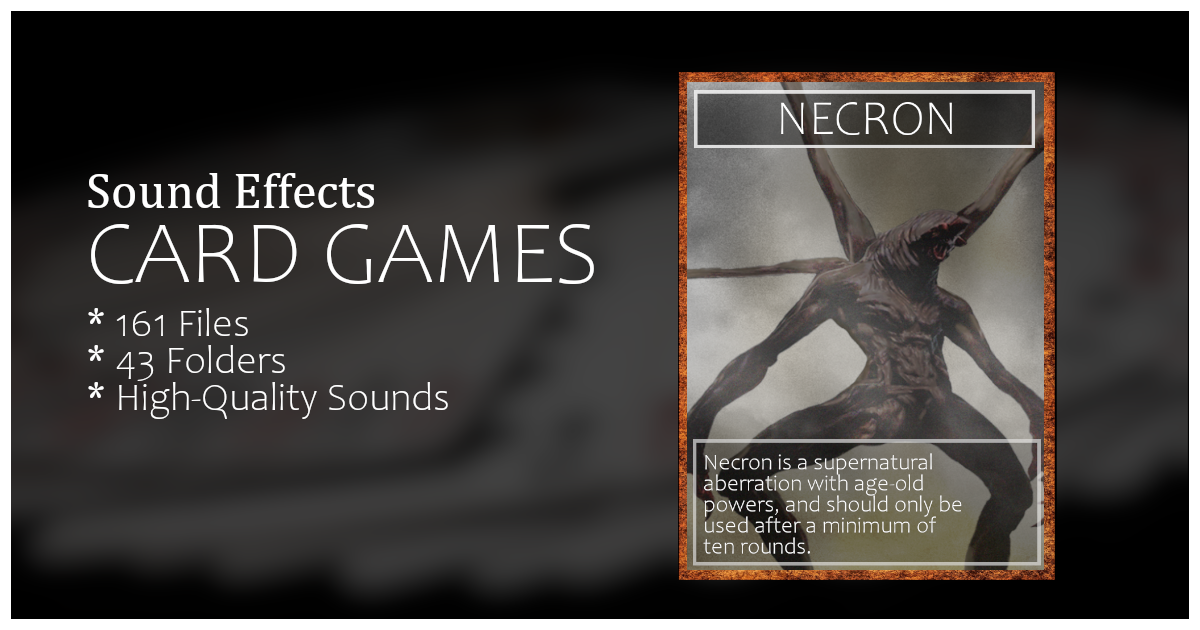 Card Games - Sound Effects
A downloadable asset pack
Hello Dev!
This pack contains several sounds for your card game, in it you will find sounds like: Draw Cards, Hover Cards, Summon Card, Move Card, and creatures, like: Vampires, Orcs, Humans, and others.
The interesting thing about this pack is that card sounds can be used for several things, like a simple change of option in the user interface, or a page turn, so by investing in this pack you guarantee sounds for a lot of different actions.
It's important to remember that I named the files according to what they sound like to me, but you can use them in different animations, take a minute to listen to the preview :)
You will also bring some monster sounds, because this type of game usually has creatures, and sounding them will definitely make the player more immersed in the game.
By investing in this package you will take all this and help me to continue creating quality sound effects at a very nice price!
Preview
(All the sounds in the pack)
Documentation
(List of All sounds)
Presentation
(A view inside the pack from my perspective)
List of Folders: (Remember that each folder has 3 to 5 variations, 161 files in total)
Defeat_v1
Defeat_v2
Defeat_v3
Defeat_v4
Defeat_v5
Draw_Card_v1
Draw_Card_v2
Draw_Card_v3
Draw_Card_v4
Drop_Cards_v1
Drop_Cards_v2
Drop_Cards_v3
Earth_Impact_v1
Fire_v1
Generic_Whoosh_v1
Hover_Card_v1
Hover_Card_v2
Hover_Card_v3
Human_v1
Insect_Wings_v1
Monster_Alien_v1
Move_Card_v1
Move_Card_v2
Move_Card_v3
Move_Card_v4
Orc_v1_wav
Orc_v2_wav
Small_Explosion_v1
Summon_Card_v1
Summon_Card_v2
Summon_Card_v3
Summon_Card_v4
Summon_Card_v5
Use_Common_Card_v1
Vampire_v1
Vampire_v2
Victory_v1
Victory_v2
Victory_v3
Victory_v4
Victory_v5
Wind_v1
Worm_v1
License:
non-exclusive license – you're free to use these packs in your commercial games. No license to remix or claim as your own work.
Purchase
In order to download this asset pack you must purchase it at or above the minimum price of $9.99 USD. You will get access to the following files:
CardGamesSoundEffects.zip
35 MB